Citizens Band Radio Service or CB radio as it is more commonly called is a type of local radio system designed for short-range communications.CB radios are commonly used by truckers, police, emergency workers and so on. There are several types of CB radios by various brands. To help you find some of the best CB radios for beginners, we have reviewed some of the best options on the market below.
1. Uniden PRO520XL Pro Series 40-Channel CB Radio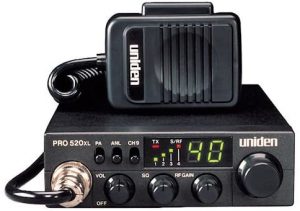 The Uniden Pro520XL is a powerful and versatile CB radio offering up to 40 channels o\on a 4-watt transmission power. The radio features a rugged build which makes it suitable for use in a variety of terrains. its compact design also means it fits conveniently into almost all vehicles. The PRO520XL is built for seamless operation and easy communication. There is an auto-noise limiter and squelch which helps to reduce noise. That's in addition to the unit's superheterodyne circuit which uses a phase-locked loop tech to lock on to a precise frequency.
2. Uniden BEARCAT 980 40- Channel SSB CB Radio with Sideband NOAA WeatherBand
The BEARCAT 980 SSB CB Radio is one of the most sophisticated CB radios you can find around. This device is built specifically for long term use for those that are always on the road. Hence this is one of the most versatile and best CB radio for truckers you can purchase. A major standout feature of this device is the large and easy-to-read color display. The display is well illuminated and can be easily personalized based on the lighting condition and user preference. The keys are also laser-etched which further improves the ease of use of this device.
3. Cobra 29Lx Professional CB Radio - NOAA Weather Channels and Emergency Alert System
The Cobra 29Lx is a CB radio built specifically for professionals. If one of your reasons for getting a CB radio is to track the weather then this unit is an ideal option for you. The unit is designed to provide instant access to the NOAA weather channels. It automatically tunes to the frequency of the strongest weather channel. You won't miss an important weather update with this device as it features an alert tone that helps you to keep track. The unit has an LCD with 4 color options. The brightness can also be adjusted which makes it suitable for both day and nighttime use. You will also love the radio's auto-diagnostic feature which runs checks for RF and voltage output to ensure a strong signal at all times.
4. Uniden PC78LTX 40-Channel Trucker's CB Radio with Integrated SWR Meter
The Uniden PC78LTX CB Radio is a powerful and strong CB radio that offers a lot of customizable and advanced features. One of the best things about this unit is how you can tweak and customize it to get the best sound quality. The device has multiple adjustments for fine-tuning both the signal, sound and the microphone. The squelch control settings and noise blanker also offer excellent customization options to ensure clarity. Although quite cheap, this unit has a reputation for being rugged and durable. It also comes with lots of additional features including a power cord, Mounting brackets and so on.
5. Cobra 29 LX MAX Smart Full Featured Professional Cb Radio, Bluetooth Legal Hands Free
The Cobra 29 LX MAX CB radio is one of the smartest professional CB radios for beginners. The unit offers lots of digital features that make it quite robust and versatile in its operation and application. As parts of its range of smart capabilities, it syncs with the iRader app which allows you to receive and report live events like road hazards, speed traps, police alerts and so on seamlessly.
6. Galaxy DX-959B Mobile CB Radio with Blue Frequency
The impressively designed Galaxy DX-959B is a powerful mobile CB radio but is also suitable as one of the best CB radios for home. The DX-959B's faceplate is designed to ensure ease of use and convenience for every user. The lettering on the faceplate ar backlighted while the frequency and channel are displayed on an LED display. These features make reading data like incoming signal, modulation, SWR and power output quite easy The CB radio is designed for versatile use as well with a 3 position tone switch and a noise filter which helps to reduce noise and ensure clarity of signals received by this powerful radio.
7. Uniden PRO401HH Professional Series 40 Channel Handheld CB Radio
If you prefer the convenience of a handheld CB radio then the Uniden PRO401HH is an ideal device for you. Not only is this unit portable, but it is also designed to help users Cons erve battery life. Despite its compact design, you can always be sure of getting the longest range possible on this radio. It is just as versatile as any other unit has it operates on all of the 40 CB frequencies. At just 1lb weight, this radio is light enough to carry with you on a hike and works just as great as any of the best CB radios for truckers too. It is powered by 9AA nickel rechargeable batteries with conveniently placed keys and controls.
8. Cobra 29LTD Professional CB Radio - Instant Channel 9, 4 Watt Output
This is another powerful CB radio unit from Cobra, maker of some of the best CB radios for truckers and home use. This unit has several standout features one of which is its antenna warning indicator. This light turns on automatically to let you know that your system needs to be checked. You can always be sure of the performance of the antenna system thanks to SWR calibration which keeps it at optimum performance at all times. The radio's microphone and other parts are well built and designed for long term use. Hence you can always be sure of the durability of this unit.
9. Stryker SR-955hpc 10 Meter Amateur Radio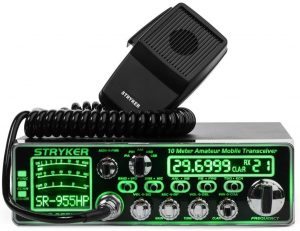 If you are willing to spend a bit more to get the best quality CB radio this unit is one of the best options to Cons ider. Although this is not a cheap CB radio, this high-powered device has features that make it worth every penny. The receiver is specially built for usage under harsh conditions which means this unit is one of the best for use in trucks. This unit is quite versatile especially in terms of controls. The Digital Echo has dual front-mounted controls. There are also variable power and talkback controls, dimmer controls advanced clarifiers and so on. The system is also PC programmable.
10. Uniden UM435 Advanced Fixed Mount Vhf Marine Radio
The Uniden UM435 is the radio to use if you intend to work on some very rough terrains thanks to a submersible design that handles difficult weather conditions quite well. This unit has a rugged microphone and a large backlight screen suitable for both day and night time use. This makes it easy to see and read the channel numbers and other details. This versatile unit connects to weather channels and receives weather alerts and updates.
Buying Guide For CB Radios For Beginners
Types of CB Radios: There are four major types of CB radios on the market. They include: 
Mobile CB Radio: This is the type of CB radio that is most commonly used in vehicles. A mobile CB radio is essentially a small box with controls and amic attached to it. It is usually mounted on the dashboard or the floor of a vehicle. 
All in Handset CB Radio: They are quite similar to the mobile radio unit. The basic difference, however, is that all-in handset CB radios have all the dials and controls built into the handset. This makes seamless control with just one hand easy. Most truckers find this type of unit a lot more convenient to use while driving. It is also quite easy to install. 
Handheld CB Radio: As the name implies, handheld CB radios are walkie-talkie style units. They are best suited for those who need a radio to carry with them while walking although they may be used in vehicles as well. They are commonly powered by batteries and some of them are rechargeable. 
Base Station CB Radio: These types of CB radios can be connected directly to 110V power outlets. Hence the are more suited for indoor use at base stations or home. Some of the best CB radios for home are base station types. 
Squelch Control: This is a standard feature on almost all CB radio units although performance may vary from one unit to the other. The Squelch control is designed to set the break-point of the radio's output. Its purpose is to ensure that the radio speaker only activates when a transmission is on. This way the operator does not have to listen to static when the radio is not receiving a signal. 
RF Gain: The RF gain is another standard feature on most CB radios. It helps to filter transmission received from the radio based on the strength of the signal. This ensures that only the strongest signal is received. The RF gain also helps to eliminate background noise to ensure clarity. 
PA Capability: With a PA horn, a CB radio with PA capability will be able to connect to a microphone and work as a transmitter for a public address system. 
Weather Capabilities: If you intend to monitor the weather with your radio then this is a major feature to look out for. CB radios with this capability can connect with local NOAA channels to access weather reports. Some units may even alarms for emergency weather updates. 
Single Side Band (SSB) – What is it? While most regular CB radios transmit at a maximum of 4 watts, radios with SSB capabilities transmit at three times the capability (12 watts). This extends the range of transmission and reception of the radio by a wide margin. It is an ideal feature if you are fitting several vehicles with CB radios and you intend to have them communicate over a long-range distance. 
Nightwatch and/or Backlit Displays: most of the best CB radios for beginners and experts alike now feature backlit display. This ensures convenient operation of the unit when it's dark. Truckers who need to use their unit both night and day will find this feature to be quite useful. 
Automatic Noise Limited (ANL): this feature helps to limit interference in transmission. It filters static, reduces engine noise and other forms of interference to improve signal quality. 
We have reviewed some of the best CB radios for beginners on the market. Any of these units will work well. However, which one to go for depends largely on your purpose for making a purchase. We recommend the Stryker SR-955hpc if you are willing to spend a bit more on a quality unit. But if you want a cheaper but equally powerful unit then you should go for the Cobra 29LTD. The Cobra 29Lx is also a good option if you tracking the weather is one of your reasons for buying a CB unit.